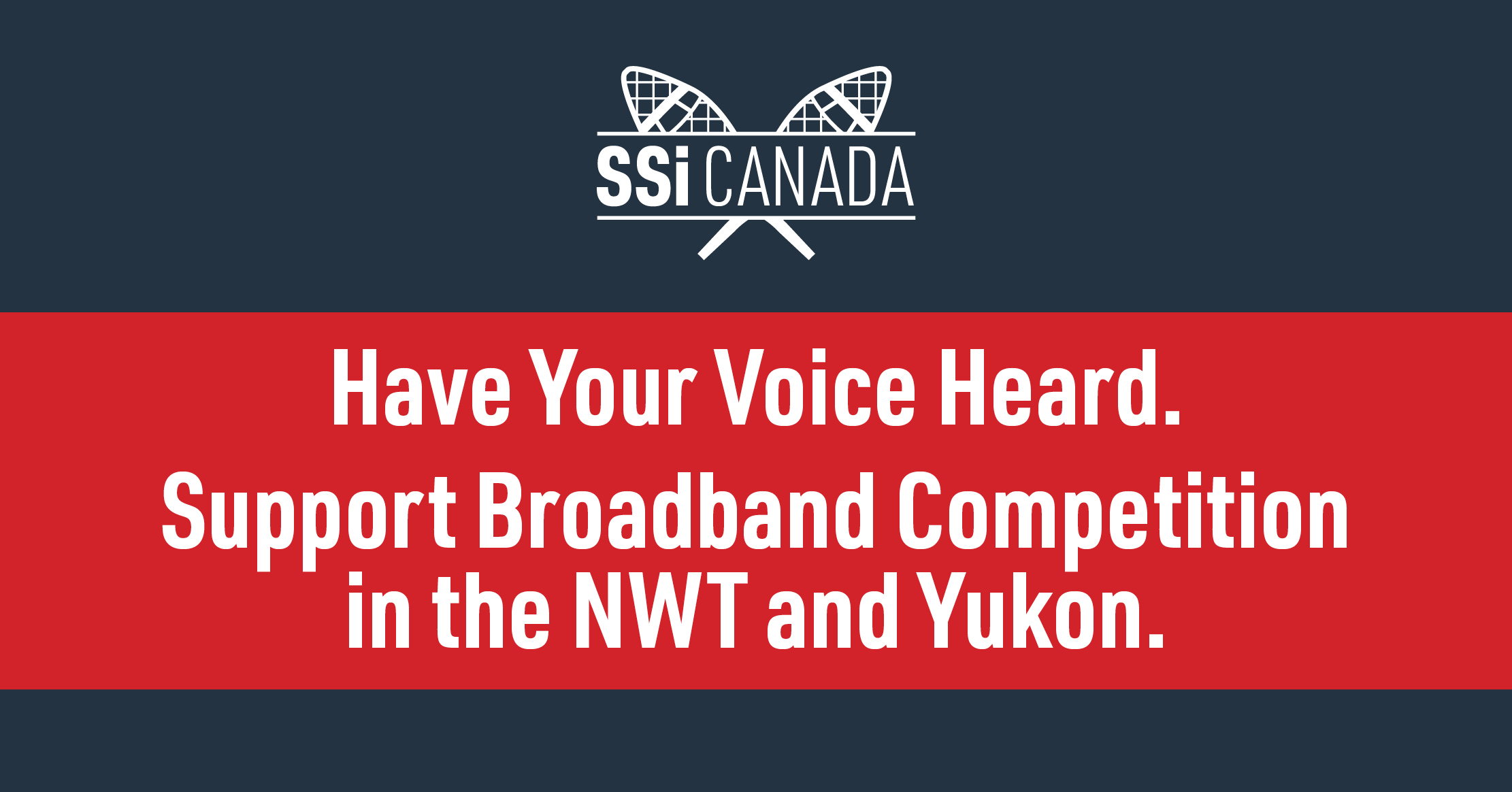 THANK YOU FOR TAKING TIME TO SUPPORT THIS IMPORTANT INITIATIVE CURRENTLY BEFORE THE CANADIAN RADIO-TELEVISION AND TELECOMMUNICATIONS COMMISSION (CRTC)
The CRTC is in the process of reviewing the regulatory framework that applies to Northwestel, and related to that review SSi Canada has submitted a request (in the form of a Part 1 Application) that the CRTC order Northwestel to allow all service providers to have fair and equitable wholesale access to its monopoly cable television and fibre-to-the-premises facilities in Yukon and the Northwest Territories. Even though some issues relevant to this application could be addressed in the Commission's review of the regulatory framework that applies to Northwestel, we believe it's urgent that the Commission act now to greatly improve competition, innovation and pricing in these markets.
The general public has the opportunity to have their voice heard on this important issue. To lend your support to SSi at this critical time, please follow the instructions below.
STEP-BY-STEP SUPPORT INSTRUCTIONS
1. Open this link on the CRTC website: Part 1 Applications

2. You will see a number of Part 1 Applications for which you can submit comments. CLICK "SUBMIT" ON THIS ONE ONLY:

3. This will take you to an Intervention Comment Form – Privacy Statement. At the bottom of this CRTC web page check the box that says:

This will take you to a new page where you can submit your comments.

4. In this section, select "In support"

5. In this section, you can copy and paste the sample letter below or type in your own comments.

6. In the appropriate fields further down the same web page, add your First Name, Last Name, City, Country, Province/Territory and Email Address.

7. At the bottom of the same web page, click "Submit My Comment".
SAMPLE SUPPORT LETTER

To: Canadian Radio-television and Telecommunications Commission
Ottawa, ON
K1A 0N2

I would like to express my support for the Part 1 Application made by SSi Micro Ltd., doing business as SSi Canada, to the Commission to Require Northwestel Inc. to Provide Third-Party Internet Access (TPIA).
I believe that fair and robust competition in any telecommunications market, regardless of northern location or population size, is essential to ensure consumers have access to the best possible pricing, innovation and choice. In this regard, I fully support SSi's request for the Commission to order Northwestel to introduce wholesale high-speed access services immediately in the form of TPIA service to its monopoly cable television and fibre-to-the-premises (FTTP) facilities in the Yukon and Northwest Territories.
I understand the CRTC has initiated a review of the regulatory framework that applies to Northwestel (Telecom Notice of Consultation CRTC 2020-367), and that some issues relevant to SSi's TPIA application could be addressed in this proceeding. However, I am deeply concerned that the amount of time it will take the Commission to conclude this proceeding will be too lengthy and even if it results in mandated TPIA service, it will come too late for competitors in our markets.
Because Northwestel already has Commission permission to offer unlimited internet packages over facilities which only Northwestel can access, other providers such as SSi are at a distinct disadvantage and unable to compete until fair wholesale access to those same facilities is made available. A lengthy decision-making process by the Commission will only serve to erode the customer bases of other providers and support the migration of those customers to Northwestel's monopoly service.  This simply cannot be permitted.

Most sincerely,

[YOUR NAME]

            
THANK YOU SINCERELY FOR YOUR SUPPORT
TEAM SSI